I used to live in London. I tell people that, but in reality I was only there as a "resident" for three months before ending up in Zürich. Now I keep telling myself that London is where my heart lives. My body is happy in Zürich where I can easily access the mountains, where I can run along the lake, multiple rivers or up huge hills, but my heart is still beating for the hustle and bustle of London. I still yearn for the random encounters, the joy brought about by an unexpected ray of sun, the ability to nibble your way around the world's many cuisines and, let's face it, the shopping.
Zürich is not a shopping city. Some may say it's reserved for those to whom the gold bars under Paradeplatz belong, but I would simply say it's pretty insipid no matter how many Swiss Franc bills you have stashed under your pillow. The combination of the prices and the limited choice means that every time I go to London to visit friends I end up trying to coerce someone to spend half a day shopping with me. I just did that very thing last Friday, well, the persuading someone to shop with me part was unsuccessful seeing as it was during the day, but the successful outcome of the shopping itself was reflected in the discrepancy in weight of my suitcase on the in and out bound journeys.
This reminded me that I quite often get asked for recommendations when it comes to London. What to see, what to do, where to eat, which shops to prioritize. So I thought I would present my ideal day in London. It's not entirely realistic because the public transport and the crowds of people on the street would inevitably slow you down a bit, but if I had London to myself for the day and could usher everyone back into the city at sundown, this is how it would look:
08:00 am
Ideally, I'd be staying in a hotel near a park. I once stayed in the Town Hall Hotel in Bethnal Green and found it to be quite the delight. It was thanks to a bargain on lastminute.com that I managed to stay in such a lush place. On this particular fantasy morning, I would be opening my eyes while nestled in the covers at this hotel. I would then nip out for a run in Victoria Park, a stone's throw away from Bethnal Green. In fact, where I used to "live".
09:00 am
Freshly showered, I'd now be ready to set out to find some breakfast. Even if the hotel provided breakfast, I would head to Broadway Market because on my fantasy day it's a Saturday, which means the market is on. Who can resist the idea of munching on a hog roast sandwich, sipping on a Vietnamese coffee and all the while browsing all the beautiful handmade goods on offer. I would have to take a short break, so after the shopping I'd swing by the Broadway bookshop, scoop up something delicious to read and plonk myself down in L'eau à la bouche for a cup of tea and a power read.
12:00 pm
On days like these I usually stuff myself to the brim and can therefore go without lunch. Fully fuelled up and ready to spend some money, I would walk over to Brick Lane and have a wander around the wonderfully quirky boutiques. Not everything is to my taste there, but the gems I have found have shone on for years.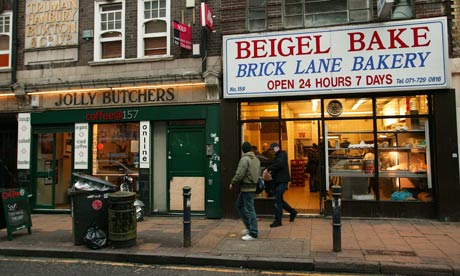 14:00 pm
Although it's become a bit of a cliché, I'd at this point head to Oxford Circus and wander into Uniqlo for my basic tees and tights and what have you. Perhaps it's because I'm half Japanese and, as a result, a wee bit biased, but I find Uniqlo is definitely the best place for basics. Once the sensible shopping is out of the way, I would veer towards Carnaby Street to buy yet another pair of Onitsukas or some yoga wear or something equally nice but unnecessary. Of course, while in this neck of the woods a gander at the goods in Liberty is unavoidable. I just hope to come out with a positive bank balance…being a guilty spender, this is usually no problem for me.
16:00 pm
Time for a coffee. Bar Italia, of course. Soho welcomes all tired London explorers and sends them packed full of energy again. The shops in the area and leading towards Covent Garden are worthy of a whole day's touring, but alas, I have to squeeze everything into my ideal day.
18:00 pm
Time for a last minute bargain to assuage any guilt I feel for over splurging throughout the day. TK Maxx came to London a few years ago and landed itself on Charing Cross Road. The assumption that Londoners didn't need to buy Prada, Seven for all mankind and those other wallet bashing brands for a fraction of the price was a pretty misguided one, if you ask me. Since this is a fantasy day, I'm going to say that I found myself a pair of arse enhancing jeans that didn't even need shortening.
19:00 pm
Not having lunch has its consequences. I need to eat now. Again, this is my ideal day, so all my shopping has been taken off my hands by my boyfriend, who dashed back to the hotel to leave it all in our room while I head to a cocktail bar for a quick aperitif. A Mr Hyde's No. 3 goes down a treat at Purl. 12 quid for a cocktail is standard when you come from Zürich…but to be cost conscious, I would opt for a pub for dinner afterwards. When in Rome.
20:00 pm
The boyfriend would meet me at a pub my friends introduced me to recently. It's called the Duke of Wellington and is rather hidden but not far from Marylebone, giving me a chance to walk off the effects of the cocktail. Last time I was there I had a burger with peanut butter in it and beetroot coleslaw with poppy seeds (or something like that). Divine.
22:00 pm
Since this is my fantasy day and I have limitless energy, feeling a bit squiffy by this point, I would drag myself back to East London and grab a night cap on Hoxton Square at Happiness Forgets. Quiet and cosy, just what I need now that I've crept past that age where the music clubs in this area were where my high-heeled feet would lead me.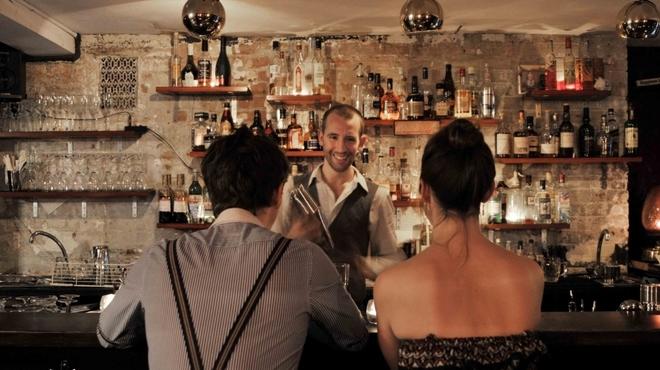 So, if this sounds like a fantastic day out in London to any of you, let me know if you want a travel buddy! I will pounce on any excuse to hop on a plane to London. Helping a stranger do their shopping in London? Standard.
*Just so you know, this blog post is in no way sponsored by the companies to which I link. It is an entry to a competition organised by Visit Britain Shop. The topic appealed to me, so I entered. The content is genuine.
images from here, here, here, here, here, here, here ,here and here